The design of the bathroom is inseparable from the layout of the shower room. In order to enjoy a comfortable shower experience, many owners prefer to choose an in-wall shower. So what is an in-wall shower? How is it different from a regular shower?
Nowadays, many people's family bathrooms use in-wall showers. The bathroom shower is one of the most important sanitary wares in the bathroom. A comfortable shower can provide your family with a comfortable and comfortable hot water bath. The space is relatively small, so choosing an in-wall shower can save space and make your decoration more concise, elegant, refined and elegant.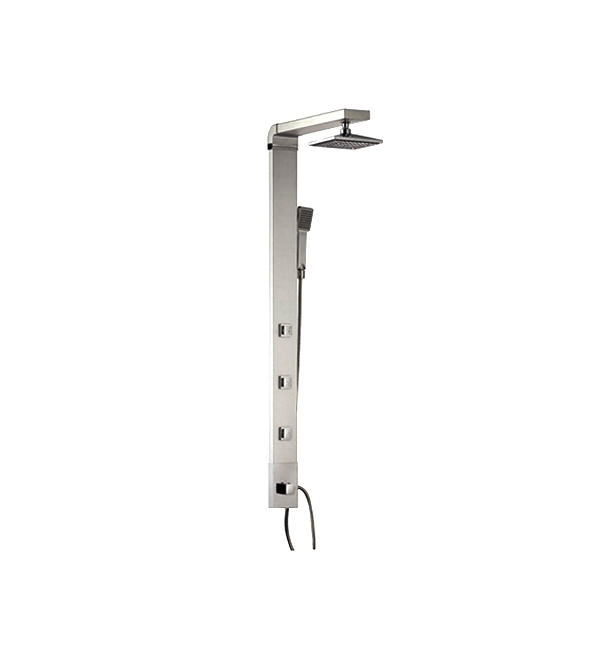 Classification of in-wall showers: In-wall showers refer to shower heads.
1. Postural shower: The shower is hidden in the wall and sprays the body sideways. There are various device orientations and water spray viewpoints, which have the effect of cleaning and massaging.
2. Overhead shower: The shower head is fixed at the top of the head, and the bracket is inserted into the wall. It does not have the function of lifting and lowering. However, there is a small movable ball on the shower head, which is used to adjust the viewpoint of the water, and the contrast between the upper and lower movable viewpoints is flexible.
3. Portable shower: You can hold the shower in your hand to shower at will, and the shower bracket has a fixed function.
Matching skills of in-wall showers:
1. Color matching Shower faucets are mostly made of stainless steel. The color is modern and fashionable. Choose a shower room with the same stainless steel frame, bathroom racks and other bathroom products of the same color to match, and wall tiles can also be used. Colors with strong visual effects, such as black, can enhance the modern sense of the bathroom and enhance the fashion.
2. The apartment type with shower faucet is suitable for all types of apartment decoration. The simple shower room is equipped with a shower head, occupying a corner of the bathroom, simple and fashionable. If the apartment is larger, you can choose a faucet with a double handle and a water outlet, which looks atmospheric. For small apartments, you can choose a faucet with a single handle, which is small and exquisite, suitable for IKEA.